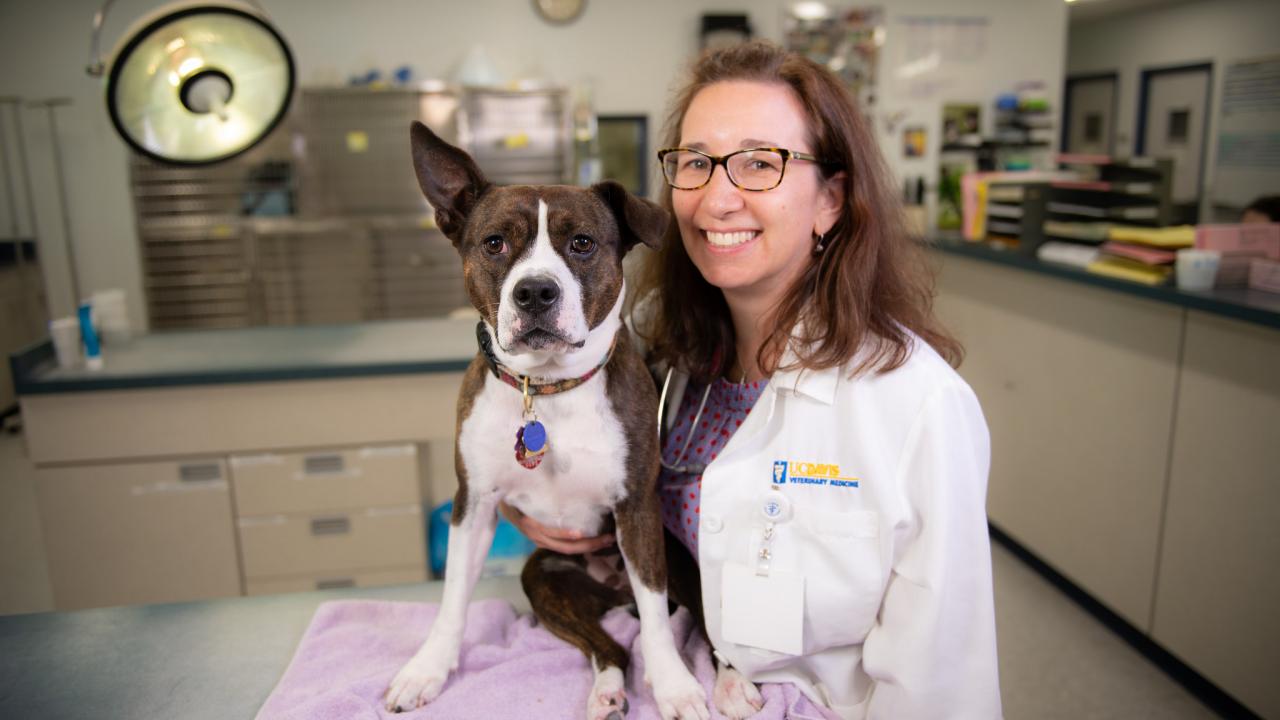 Join us once per month for this public educational series of lectures on animal health topics, brought to you by the UC Davis Veterinary Medical Teaching Hospital. The series features on-campus seminars that are free and open to the public. The lecture series is geared toward both large and small animal owners interested in learning the latest in caring for their four-legged family members.
Dates: generally the 3rd or 4th Tuesday of each month (may occasionally vary to other days of week)
Time: 7:00 - 8:00 p.m. PT
Location: Gladys Valley Hall, UC Davis School of Veterinary Medicine (map and parking info)
Cost: FREE
CE Credit: 0 credit available
Upcoming Events  
As a precautionary measure during the coronavirus outbreak, the "Genetic Testing In Animals" lecture on March 31 and all future lectures in the An Evening with Vet Med monthly series have been indefinitely postponed. We will reassess the situation in the coming weeks. Thank you for your patience during this time. For the latest updates on coronavirus, please see our
Coronavirus Resources Website
.
GENETIC TESTING IN ANIMALS
Date: Tuesday, March 31, 2020
Time: 7pm
Location: 1030 Valley Hall, UC Davis School of Veterinary Medicine
Speaker: Dr. Rebecca Bellone, director of UC Davis Veterinary Genetics Laboratory
Event Synopsis: Collaborative research, along with advances in knowledge of and tools with which to study genetics, has given scientists a better understanding of the causes of inherited disorders in animals. Proper utilization of genetic testing can assist in both clinical management and breeding decisions. This talk will cover the ins and outs of genetic testing in animals. We will cover aspects of sample processing for genetic testing and work our way through how the results are obtained and what they mean. Using practical examples to expand your knowledge, genetic testing across species, with an emphasis on the horse, will be covered.
Tickets: POSTPONED
Future topics in the series may include:
dog breeding practices
foal care
environmental hazards for animals
animal behavior
eye health
lameness in dogs
and much more
Watch Past Lectures
Management Considerations for California Horses
Biosecurity at Your Ranch, Farm or Event
Why Do Horses Need Regular Dental Care?
Backyard Chicken Management
Summer Health Hazards for Dogs
Coping with Pet Loss
Koi Health
Equine Colic : A Real Pain in the Gut
Importance of "Catifying" Your Home
First Aid for Cats and Dogs
Preventative Care for Cats and Dogs
Pet Dental Health
Basic First Aid and Preventative Care for Horses
Farrier Services: Hoof Care Myths and Truths
Category
Tags