How to Become a Corporate Partner
The Center for Continuing Professional Education at the UC Davis School of Veterinary Medicine relies on educational grants from our corporate partners to provide state of the art continuing education opportunities to veterinarians in both general and specialty practice as well as registered veterinary technicians. Our CE events attract hundreds of practitioners not only from the local California areas but national and international audience as well. This extensive appeal allows corporate partners to engage with a wide variety of attendees during our conferences and oftentimes during the tailored social events of these programs.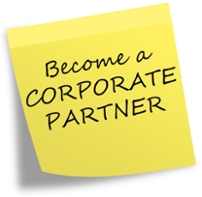 A corporate partner form can be found on each specific event webpage. Look for the sticky note image like the one on the right and click on it to view/download the corporate partnership form for that event.
Should you have any questions, please do not hesitate to contact the office at 530-752-3905 or svmcontinuinged@ucdavis.edu, or Program Manager, Melissa Bartholomew at mmbartholomew@ucdavis.edu. We sincerely thank you for your interest and support of our programs!
Current Corporate Partner Opportunities
Certified Veterinary Acupuncture Course

9th Annual Winter Conference & 38th Annual WAAM/AEMC Wildlife and Exotic Animal Symposium