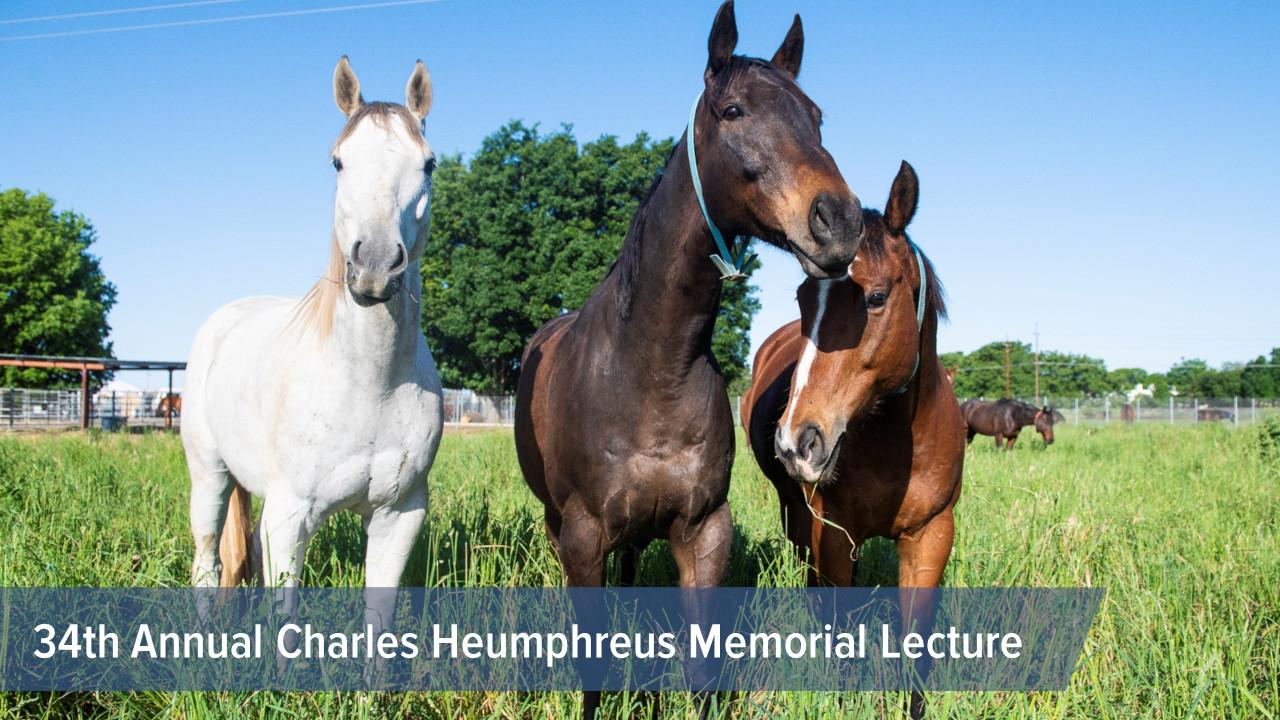 Saturday, April 4, 2020 - POSTPONED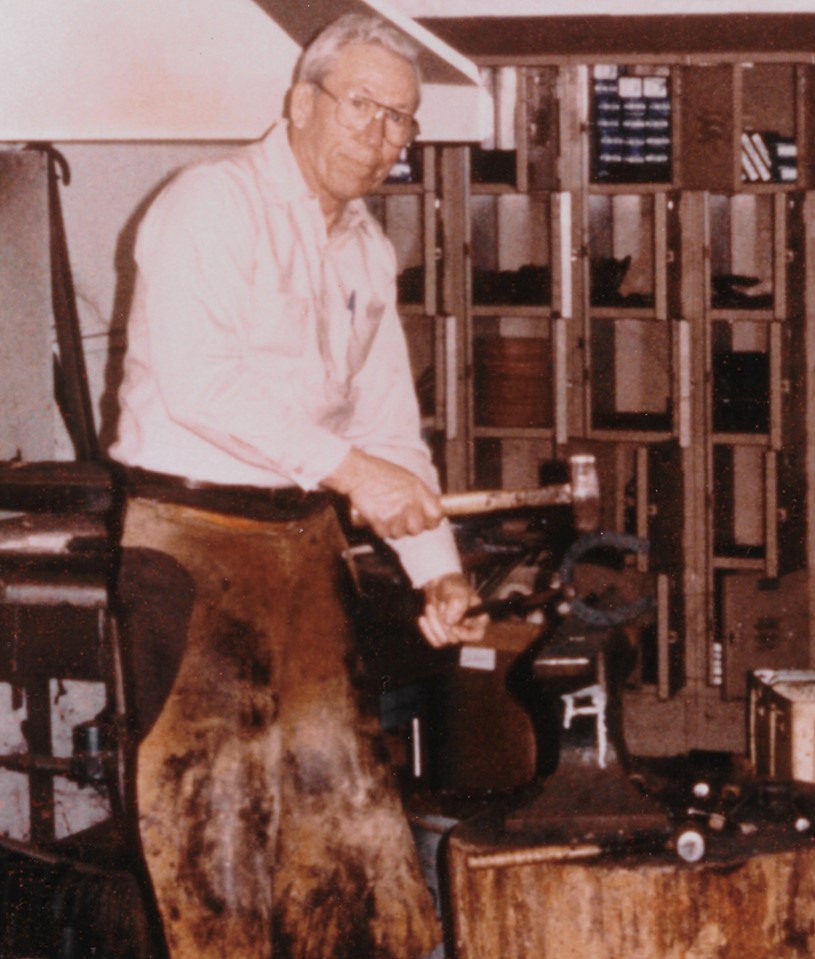 POSTPONED
Time: 8:00 am - 4:30 pm
Location: Morning lectures will be in Gladys Valley Hall, Room 1020, UC Davis.
Afternoon limited enrollment farrier demonstration will be held in the Large Animal Clinic covered arena.
CE: AM Lectures: up to 3 hours for DVMs and RVT/Vet Techs; PM Demonstration: Up to 3.5 hours (DVMs only)
Farriers (CE Pending)
Cost: Morning Lectures: FREE
Afternoon Lab (limited to 50 registrants; Farriers and Equine Veterinarians only-- separate registration required): FREE
As of 3/11/2020: Due to the global situation with COVID-19 , the UC Davis Center for Continuing Professional Education and the Heumphreus Organizing Committee have made the difficult decision to postpone the Heumphreus farrier conference.  Attendees will receive an email with additional information. We hope to reschedule this event in the near future.
The Charles Heumphreus Memorial Lecture is an annual event that has been offered free to farriers and equine veterinarians since 1987.  Known simply as "The Heumphreus," it is the first endowed lecture at the UC Davis School of Veterinary Medicine and has attracted an impressive list of farrier and veterinary speakers over the past 34 years.  The endowment was founded by Dr. Tim O'Brien, UC Davis emeritus faculty radiologist, to honor Charlie's 18 years of service as the farrier at the UC Davis Veterinary Medical Teaching Hospital. 
The 2020 Heumphreus Lecture will focus on imaging and foot lameness for the farrier and veterinarian.  Our distinguished speakers include farrier Doug Russo from Iowa State University who will discuss dynamic versus static balance and how to improve the farrier-veterinarian relationship. Our veterinary presenter, Dr. Mary Beth Whitcomb from the UC Davis Large Animal Ultrasound Service, will highlight the use of ultrasound in horses with foot lameness.
Our Distinguished 2020 Heumphreus Speakers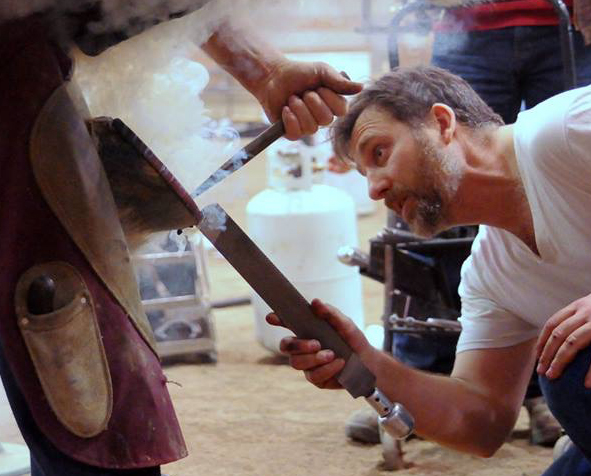 Doug Russo, CJF, AWCF, shod his first horse as a ranch hand 25 years ago but didn't begin his full time career for another ten years through his apprenticeship with Richard Becker CJF. He has since become an AFA Certified Journeyman Farrier and Associate of The Worshipful Company of Farriers. Mr. Russo is currently the resident farrier at Iowa State University College of Veterinary Medicine where he works with equine surgeons to provide therapeutic farriery to clinic patients. He is passionate about improving educational opportunities for veterinary students, teaching a two week rotation to fourth year students in lameness courses to improve their knowledge of farriery and build trust to help improve the veterinarian/farrier relationship. Mr. Russo has served as president of the Michigan Horseshoers Association and on their board of directors. He is a past board member of the American Farriers Association, current approved certification tester, precertification instructor and chairman of the AFA's research committee. Mr. Russo enjoys spending time with his wife and three kids. He is a hobby artist blacksmith and knife maker and enjoys time spent on his own horse.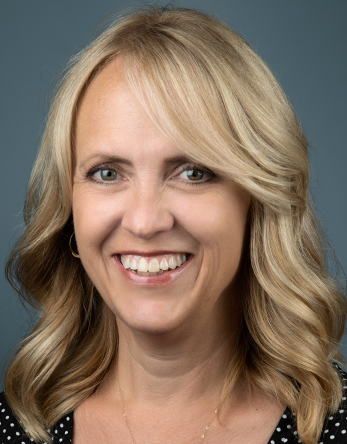 Mary Beth Whitcomb, DVM MBA ECVDI (LA-Associate), is Professor of Large Animal Ultrasound at UC Davis where she has been faculty since 1999. She completed her DVM at UC Davis (1996), an internship at Las Colinas Veterinary Clinic in Irving, Texas (1997), worked as a Post-Graduate Researcher at the JD Wheat Orthopedic Research Lab and then completed a Fellowship in Large Animal Ultrasound & Cardiology at New Bolton Center (UPenn) in 1999. Dr. Whitcomb established the LA Ultrasound Fellowship Program in 2001 and became a Large Animal Associate Member of the European College of Veterinary Diagnostic Imaging in 2011. She has delivered over 600 presentations on equine ultrasound at the national and international level and is known for 3D/2D digital simulations to teach ultrasound to all skill levels. In 2013, Dr. Whitcomb earned an MBA from UC Davis and has branched out into business topics and gender issues in veterinary practice. In her spare time, she enjoys travel, live music and gardening.    
This year's program is a joint effort of the Center for Continuing Professional Education and the 2020 Heumphreus Organizing Committee composed of UC Davis VMTH clinicians, Drs. Emily Berryhill, Larry Galuppo and Mary Beth Whitcomb.
Tags