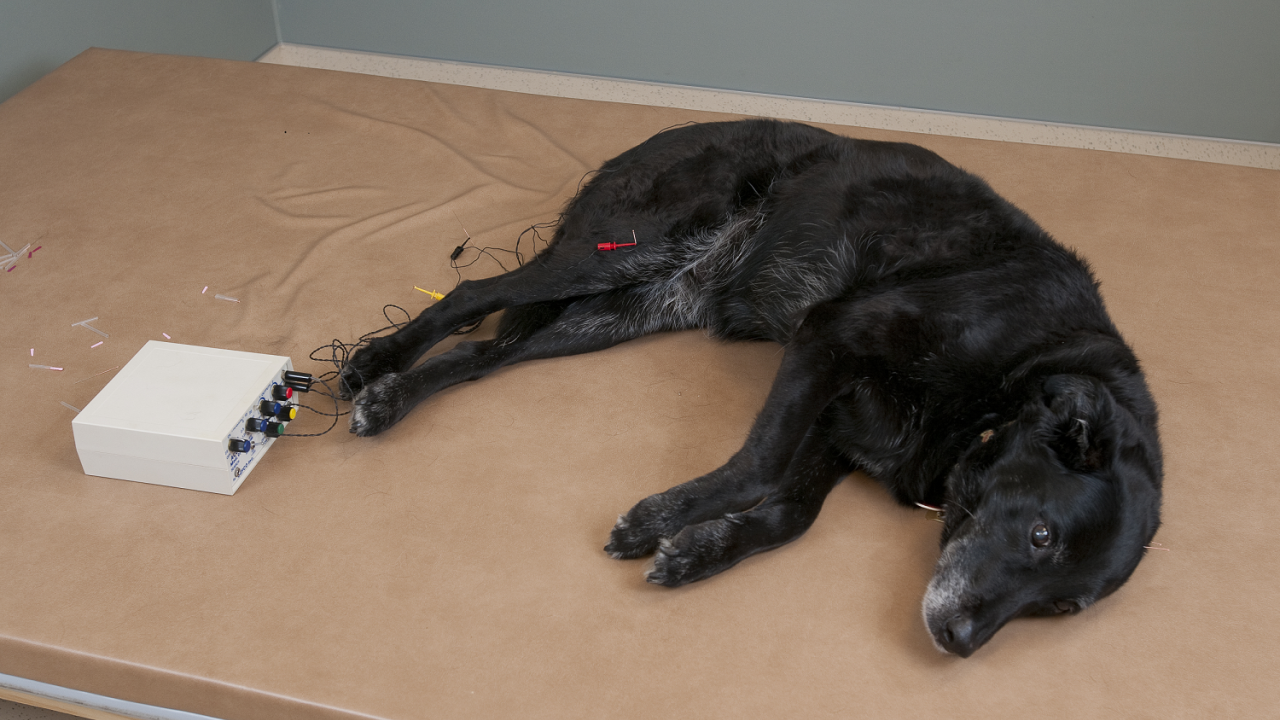 Hybrid Course
On-site dates for hands-on laboratories:
Module 1: January 28-29, 2023
Module 2: April 22-23, 2023
Module 3: June 2-4, 2023
On-site Location: Gourley Clinical Teaching Center
Program Overview
The course begins with an overview of fundamental aspects of Chinese Medicine, including Yin-yang and Five Element theory. These theories serve as a foundation for case diagnosis and treatment presented later in the class. A variety of acupuncture techniques are taught in addition to conventional "dry needling," including electro-acupuncture, aqua-acupuncture, and moxibustion. In acupoint labs, students learn acupuncture points on dogs. Class is limited to 24 students for an intensive and intimate learning experience. The acupuncture certification is offered by Chi University and hosted by UC Davis School of Veterinary Medicine Center for Continuing Professional Education.
The course consists of an online session and an on-site session. The online session contains 5 modules with a total of 98 hours of lectures and case demos that students can stream at their convenience. The on-site session contains 3 modules hosted at UC Davis School of Veterinary Medicine on January 28-29, 2023, April 15-16, 2023, and June 2-4, 2023. These in-person modules provide students with the opportunity to learn acupuncture points on live animals in small lab groups with a maximum of six students per instructor. Tutoring sessions totaling 12 hours thoroughly prepare students for exams.
Major Topics
With a curriculum designed for students new to acupuncture, the Small Animal Acupuncture Program provides a comprehensive mix of both theory and practice. You will learn:
Frameworks used in acupuncture: Five Elements, Yin-Yang, Eight Principles, Zang-Fu Physiology and Pathology, Meridians and Channels
The scientific basis of acupuncture
167 canine acupuncture points on live animals
Acupuncture techniques: electro-acupuncture, aqua-acupuncture, moxibustion, and dry needling
TCVM diagnostic systems: patient personality, tongue and pulse diagnosis, and client inquiry
How to integrate acupuncture into your practice
Additional Benefits
Once enrolled for the Acupuncture Certification Track, you will receive:
Complimentary canine acupoint chart
Complimentary 32-hour Evidence-Based Veterinary Acupuncture Course
1-year complimentary membership with the World Association of TCVM (WATCVM)
Free lifetime case consultation by Chi faculty
Program Features
Enjoy the convenience of online learning with 20 hours of virtual lab learning in 143 total hours of hybrid courses
Learn from Dr. Xie, the master of veterinary acupuncture
35 hours of intensive hands on learning with live animals in small lab groups capped at 6 students for every instructor lead by Dr. Koh
Start practicing acupuncture on patients after the first on-site session
Earn up to 25% of future master's degree credit per experiential learning
In accordance with University policy and copyright law, the University prohibits distributing and/or posting on the internet any content from conferences without the explicit permission of the instructors and the UCD SVM CCPE.
Tags