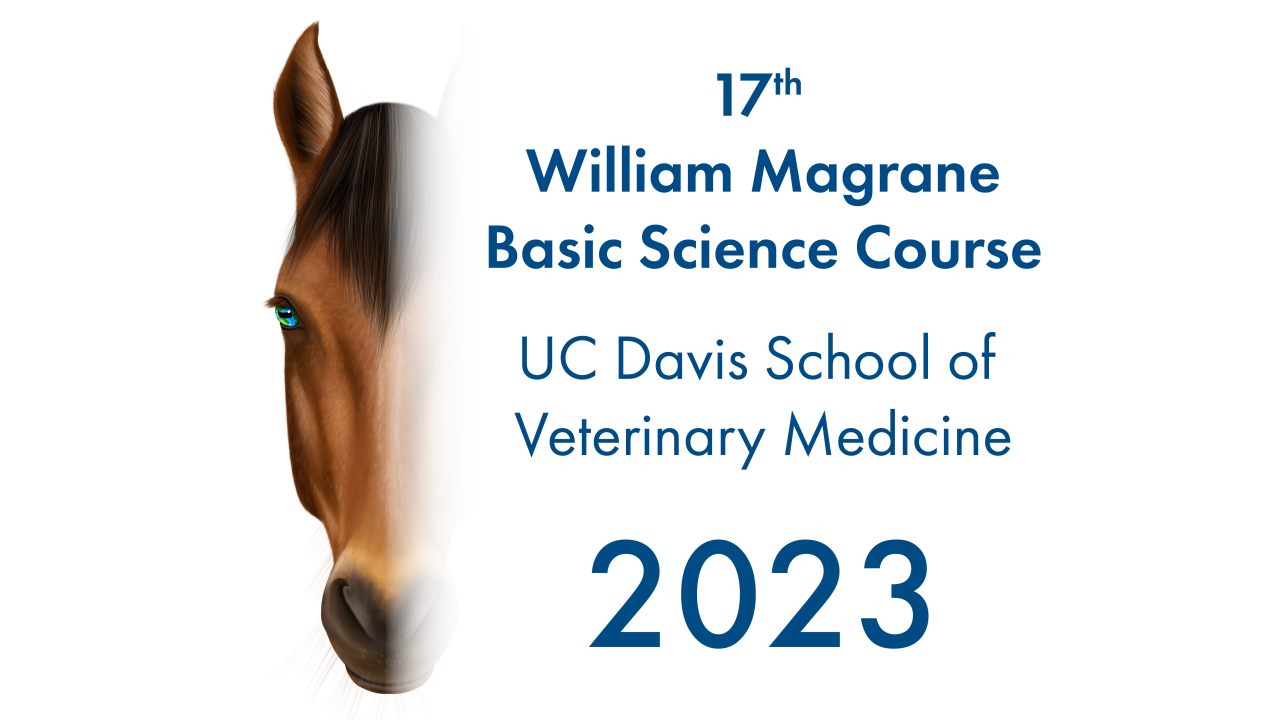 Dates: May 12, 2023 - July 10, 2023
Location: Online via CANVAS

®
Registration is now closed. The 2024 in-person course is planned for next summer. Please stay tuned for additional information.
2023 BASIC SCIENCE COURSE
This year, the Basic Science Course will again be offered as a series of online lectures and discussions following the same general format used in 2020 and 2021. It will run for approximately 8 weeks and comprise three consecutive parts.  First, pre-recorded ("asynchronous") lectures and notes will be available for preview for about 3 weeks.  This will be followed by an approximately 3-week period of live ("synchronous") online discussions, online image recognition sessions ("slide rounds"), and online social events. Finally, all materials (including recordings of the lectures, online discussions, and image recognition sessions) will remain available for review for approximately 2 weeks.
Tentative dates for these 3 periods are as follows:
Asynchronous Preview Period:

Friday May 12th through Sunday June 4th, 2023

Synchronous Live Sessions:

Monday June 5th through Sunday June 25th, 2023

Asynchronous Review Period:

Monday June 26th through Monday July 10th, 2023
This format provides each attendee maximum flexibility in the way they learn. Over the 8 weeks, you can watch all recorded lectures and discussions as many times as you wish – and on your own schedule.  In addition, you can log-in live to any discussion sessions to hear new and additional material and to have your questions answered by the course speakers. Plus, you can participate in live image recognition sessions (slide rounds) or watch them on delay.
Because this course attracts attendees from almost every major time zone around the globe, live discussions are scheduled at times suitable for as many attendees as possible. But, if you are unable to attend any sessions live, recall that they are all recorded and available for you to view at your convenience until the end of the course. To avoid confusion regarding time zones, the course uses Universal "Zulu" Time (UTC).  For a converter from UTC to your local time zone click here.
At this stage, the live discussions and slide rounds are planned for two typical time periods (sometime between 13:00h and 16:00h UTC and sometime between 19:00h and 24:00h UTC) Monday through Saturday from June 5-25th, 2023. During the first week (May 12-19th, 2023), an Orientation/Welcome session will be held twice (at similar times as to the live discussions) so as to familiarize attendees with the online systems prior to the main 3 weeks of synchronous discussions. Attendees need attend only one of these two identical sessions. A complete draft syllabus will be released ASAP.
BSC CONTENT:
The ACVO Basic Science Course includes instruction in the core basic sciences of anatomy, embryology, genetics, physiology, microbiology, immunology, pharmacology, and pathology.  In addition, the course covers certain clinical and research topics less frequently encountered in a residency program including neuro-ophthalmology, retinoscopy, advanced imaging, phacodynamics and principles of microsurgery, and laboratory animal ophthalmology.  Instruction and content of the course is directed at the principle audience of ABVO and ECVO residents, is delivered entirely in English, and emphasizes the basic - not the clinical - sciences relevant to Comparative Ophthalmology.
The ACVO Basic Science Course is not a degree-, certificate-, or diploma-granting agency.  Likewise, it is not a stand-alone credential that should suggest to the public that an attendee is more highly trained in veterinary ophthalmology than someone who has not attended the course. The course is not intended to introduce or train veterinarians in clinical skills of veterinary ophthalmology, and is in no way equivalent to residency training; rather it is supplemental to it.
A certificate of completion is provided, but no continuing education credits are provided for this course.
BASIC SCIENCE COURSE OBJECTIVES:
To further the understanding of basic scientific principles, pathophysiology of diseases, and principles and applications of diagnostic and therapeutic modalities in veterinary and comparative ophthalmology

To enhance patient care in the practice of veterinary ophthalmology

To improve the ability to obtain funding, perform research and advance the science of comparative ophthalmology

To build relationships and promote collegiality among comparative ophthalmologists and other vision scientists

To encourage life-long learning in comparative ophthalmology
CLICK HERE FOR MORE COURSE INFORMATION & HISTORY OF THE BSC
WHO MAY ATTEND?
Enrollment is open to individuals in ophthalmology residency training programs as well as graduate students in veterinary ophthalmology, university faculty teaching veterinary ophthalmology, international trainees in veterinary ophthalmology, and individuals with an interest in veterinary ophthalmology.
BSC COURSE REGISTRATION:
| | |
| --- | --- |
| Registration costs for all attendees | $1,700 (USD) |
| REGISTRATION DEADLINE: MIDNIGHT US PACIFIC DAYLIGHT TIME ON APRIL 28, 2023 |   |
If you attended the 2022 in-person BSC and want to attend online this year, then the ACVO is offering a 20% discount on your 2023 registration costs. Email svmcontinuinged@ucdavis.edu for the discount code.
OCULAR PATHOLOGY REVIEW COURSE
A limited number of spaces in the Pathology section (Ocular Pathology Review Course) of the 2023 online Magrane Basic Science Course in Veterinary and Comparative Ophthalmology are being made available for ACVP/ECVP Residents and Diplomates, and other pathology trainees. The Ocular Pathology Review Course (OPRC) is a segment of the entire Basic Science Course comprising approximately 14 hours of pre-recorded lectures covering neoplastic and non-neoplastic pathology of the globe and adnexa of companion animal species.  In addition, you can participate live at 14:00-15:00h UTC on June 13th and 14th, 2023 (time and dates to be confirmed) or watch on delay two approximately 1-hour discussions at which the faculty – Drs. Carole Naranjo (IDEXX, Spain), Philippe Labelle (Antech, Canada), and Leandro Teixeira (COPLOW, USA) will address your questions. All pre-recorded material will be available online for approximately 8 weeks (May 12-July 10, 2023).
The course provides an entry-level review of diseases and processes affecting ocular structures emphasizing nomenclature, key diagnostic features, and diagnostic challenges. The course will focus on pathologic correlates of clinical disease in domestic/companion animals and, although aimed at the primary audience of ABVO/ECVO Residents, will be of interest and educational value to many in the Pathology discipline. The course is not intended as a review for ACVP/ECVP Boards and will not include any hands-on slide review.
OPRC ELIGIBILITY:
Enrollment in the Ocular Pathology Review course is open to individuals in approved ACVP or ECVP residency programs as well as graduate students in veterinary pathology, International university faculty teaching veterinary pathology, international trainees in veterinary pathology, and individuals with an interest in ophthalmic pathology.
REGISTRATION:
| | |
| --- | --- |
| All Attendees | $375 (USD) |
| REGISTRATION DEADLINE: MIDNIGHT US PACIFIC DAYLIGHT TIME ON APRIL 28, 2023 |   |
OCULAR PATHOLOGY REVIEW COURSE INSTRUCTORS:
Phil Labelle, DVM, DACVP
Antech Diagnostics (Ottawa, Canada)
Carol Naranjo Freixa, LV, DACVP, DECVP, PhD
IDEXX Laboratories (Barcelona, Spain)
Leandro Teixeira, DVM, MS, DACVP
Comparative Ocular Pathology Laboratory of Wisconsin
University of Wisconsin-Madison
For questions regarding the Ocular Pathology Review Course, please contact the Center for Continuing Professional Education.
BASIC SCIENCE COURSE CANCELLATION POLICY:
If you cancel before you log in to view the 2023 course materials for the first time, you will receive a refund less a $350.00 processing charge. 
No refunds are offered for cancellation after the first log in.
OCULAR PATHOLOGY REVIEW COURSE CANCELLATION POLICY:
If you cancel 
before Midnight US Pacific Daylight Time on
ay 8. 2023, you will receive a refund less a $125.00 processing charge. 
No refunds are offered for cancellation after May 8, 2023. 

All cancellation requests must be received by email at svmcontinuinged@ucdavis.edu.
In accordance with University policy and copyright law, the University prohibits distributing and/or posting on the internet any content from this conference/symposium/session without the explicit permission of the instructor and CCPE.
Tags