Date: April 9-11, 2018
Time: Monday - Wednesday, (tentative) 8 am - 5 pm lectures
Location: Fairmont Kea Lani Hotel, Maui, HI. Rooms are booking quickly! Please call 866-532-5264 to book now. Should you have any problems with this process please contact the CE Office at 530-752-3905.
CE: tentatively up to 22 hours available
Registration for the event is now closed!
Cost for the Event:
NON-VSSO Member (with CE credits): onsite = $1,250; webinar = $599
VSSO Member (with CE credits): onsite = $1050; webinar = $499
Discount price for Resident/Intern/Fellow/Student is available for view at checkout.
Cancellation and change policy: A tuition refund will be made less $75 for cancellations made prior to 3/9/18.  After that, no refunds will be made. 
The Veterinary Society of Surgical Oncology is hosting this event. Click on the image to visit the VSSO website.
Exclusive Dining Opportunity at the Maui Ocean Center!
Enjoy a one-of-a-kind experience at the Maui Ocean Center just a 25-minute drive from the Fairmont Hotel.
Live entertainment
Delicious buffet, featuring Island recipes
Dinner seating in the Open Ocean Exhibit (750,000 gallon tank
that house larger sharks and stingrays)
Dive presentations, including a special VIP guest diver
Special Discovery Stations to captivate and enthrall
Marine Naturalists will be on hand throughout the evening
Park will remain open exclusively for our group
Please register for this experience as an add-on to your main meeting registration. Transportation cost from the hotel to the Maui Ocean Center and back is included with dinner registration.
Cost for the experience: VSSO registrant = $50; registrant guest = $100; child (3-12) = $35.
The Maui Ocean Center event is at full capacity. Please check at the registration desk during the first day of the event to see if there are any cancellation. Onsite registration cost is $100 for VSSO registrant.
Speakers for the Meeting:
Kurt Weiss
Jonathan Bray
Brant Inman
Bryden Stanley
Lynn Griffin
Michael Kent
Chand Khanna
Nicola Mason
Nicole Ehrhart
Tim Fan
Craig Glaiberman
Joanne Lagmay
Will Eward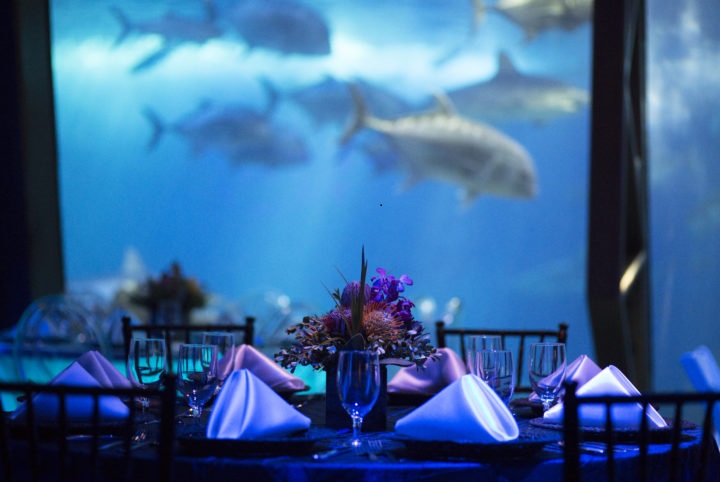 Click on the image to visit the Maui Ocean Center website.