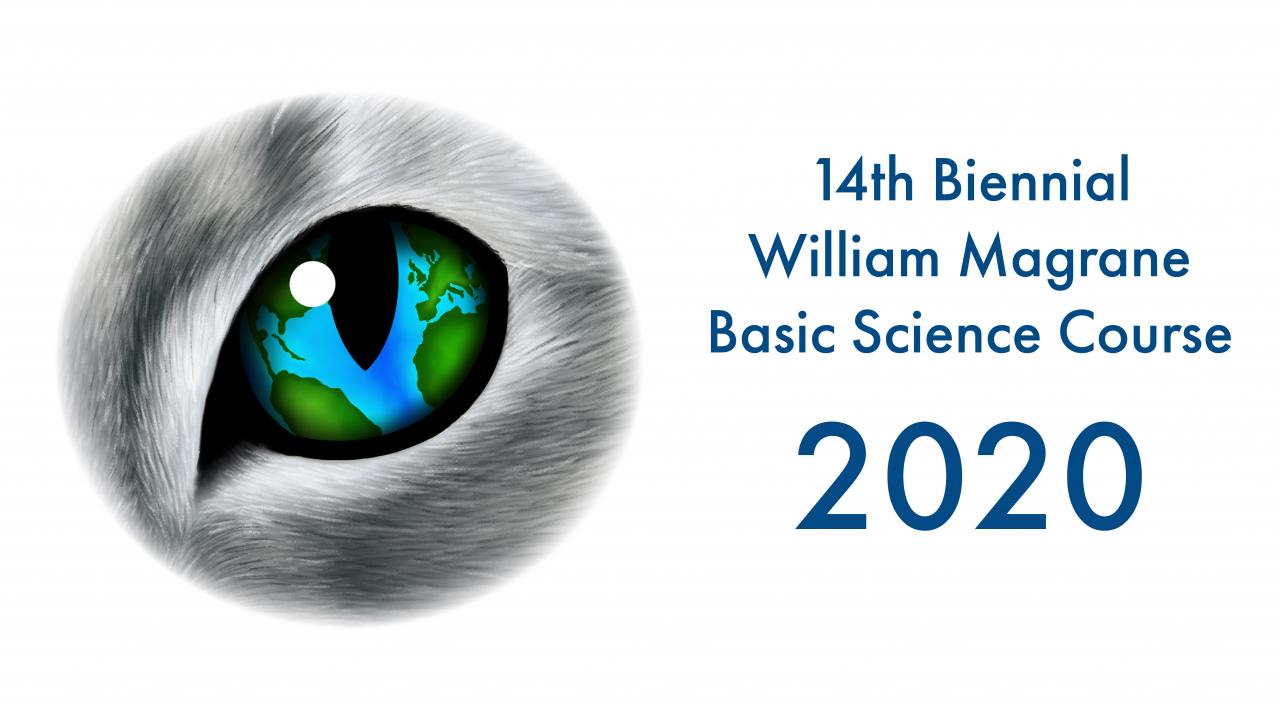 The 14th Biennial ACVO William Magrane Basic Science Course in Veterinary and Comparative Ophthalmology
Dates:  June 22-July 9, 2020
Location: School of Veterinary Medicine | UC Davis
Mission Statement of the ACVO William Magrane Basic Science Course in Veterinary and Comparative Ophthalmology: "To provide ophthalmology residents and Diplomates, and vision scientists with high quality, intensive instruction in the basic sciences as a foundation for the study and practice of veterinary and comparative ophthalmology."
ELIGIBILITY:
Enrollment is open to individuals in ABVO- and ECVO-approved residency training programs as well as graduate students in veterinary ophthalmology, international university faculty teaching veterinary ophthalmology, international trainees in veterinary ophthalmology, and individuals with an interest in veterinary ophthalmology.
REGISTRATION AND FEES

:
Fees for the course:
$1,200 for

individuals currently in ABVO-approved or ECVO-approved residency training programs.
$

2,400 for

all other participants.
The registration fee includes all lectures and labs.
Application deadline is March 23, 2020. Course registration is limited, with priority given to ABVO and ECVO residents.
COURSE CANCELLATIONS AND REFUNDS:
Please review carefully as these dates and deadlines are specific to this conference.
— Cancellations and requests for refunds made by May 24, 2020 (11:59 p.m. PDT)
    will be processed with a $250 fee.
—

Cancellations and requests submitted May 25, 2020 or later  - no refunds.


— Submit cancellation request via email to

svmcontinuinged@ucdavis.edu

.
CONTENT:
The course will include instruction in core basic sciences of anatomy, embryology, genetics, physiology, microbiology, immunology, pharmacology, and pathology. In addition, the course will cover certain clinical and research topics less frequently encountered in a residency program including neuro-ophthalmology, retinoscopy, advanced imaging, phacodynamics and principles of microsurgery, and laboratory animal ophthalmology. The instruction and content of the course will be directed to the principal audience of ABVO and ECVO residents.
The ACVO Basic Science Course takes place every two years and is not a degree-, certificate-, or diploma-granting agency. Likewise, it is not a stand-alone credential that should suggest to the public that an attendee is more highly trained in veterinary ophthalmology than someone who has not attended the course. The course is not intended to introduce or train veterinarians in clinical skills of veterinary ophthalmology, and is in no way equivalent to residency training, rather it is supplemental to it.
COURSE OBJECTIVES:
To further the understanding of basic scientific principles, pathophysiology of diseases, and principles and applications of diagnostic and therapeutic modalities in veterinary and comparative ophthalmology

To enhance patient care in the practice of veterinary ophthalmology

To improve the ability to obtain funding, perform research and advance the science of comparative ophthalmology

To build relationships and promote collegiality among comparative ophthalmologists and other vision scientists

To encourage life-long learning in comparative ophthalmology
OCULAR PATHOLOGY REVIEW COURSE OPTION

Ten places

in the Pathology section of the

14th Biennial Magrane Basic Science Course in Veterinary and Comparative Ophthalmology

are being reserved for ACVP/ECVP residents, Diplomates, and other formal pathology trainees. The Pathology section is given as a two-day segment of the course and offers broad exposure to ophthalmic pathology of domestic species through didactic lectures and group discussions. The course is not intended as a hands-on slide review, but rather provides an entry-level review of diseases and processes affecting ocular structures emphasizing nomenclature, key diagnostic features, and diagnostic challenges.

DATES: Wednesday and Thursday, June 24 & 25, 2020



REGISTRATION COST:
Registration for the two-day Pathology course is $300
 

ELIGIBILITY:

Enrollment in this course is open to individuals in approved ACVP and ECVP residency programs as well as graduate students in veterinary pathology, International university faculty teaching veterinary pathology, international trainees in veterinary pathology, and individuals with an interest in ophthalmic pathology.

OPRC INSTRUCTORS:

Phil Labelle, DVM, DACVP
Antech Diagnostics (Ottawa, Canada)

Carol Naranjo Freixa, LV, DACVP, DECVP, PhD
IDEXX Laboratories (Barcelona, Spain)

Leandro Teixeira, DVM, MS, DACVP
Comparative Ocular Pathology Laboratory of Wisconsin
University of Wisconsin-Madison

CONTINUING EDUCATION CREDIT:
The two-day Ocular Pathology Review Course will provide 14 hours of continuing education credits.

For questions regarding the Ocular Pathology Review Course, please contact Dr. Phil Labelle.
LOCATION:
This course will be held at the University of California, Davis, School of Veterinary Medicine, in Davis, CA, USA.
DAVIS, CALIFORNIA:
Davis is located in the agriculturally rich Yolo County, just two hours from the gorgeous high-altitude Lake Tahoe and the vibrant multicultural city of San Francisco, about one hour from the world-renowned Napa and Sonoma wine-growing valleys, about four hours from the iconic Yosemite National Park, and just 20 minutes from the State Capital, Sacramento (to name just a few of the surrounding highlights).  The City of Davis is a quaint college town known for its world-class public research university, bike-friendly streets, Davis Farmers Market, and student-run Unitrans bus service, featuring London double-decker buses.
LODGING
Updated 11/26/19:
Registration for campus housing option will open in February 2020.
On campus accommodations include:
Daily meal plan through Dining Commons (DC).

Linen, folded and placed on the bed, includes 2 sheets, 2 towels, 1 washcloth, pillow, pillowcase, blanket, and mattress pad (no bed-spread or comforter).

A small bar of soap and a plastic cup are provided.

Shared bathroom facilities.

All buildings are air-conditioned.
Wifi available
View the UC Davis Campus Map.
Dining
Campus Housing Cancellation and Refunds:
Please review the housing cancellation deadlines if you choose to lodge on campus.
Cancellations and requests for refunds must be made by April 20, 2020 (11:59 p.m. PDT).
Housing cancellations submitted April 21, 2020 or later: 80% liability of total housing costs.
Additional Lodging Options:
You may, of course, choose to make your own lodging arrangements. Find additional info on lodging here. Find information on visiting UC Davis here.
Recreation:
The UC Davis Activities and Recreation Center (ARC), an indoor sports center, is located a short distance from the Residence Halls and the School of Veterinary Medicine. Summer guests may also be interested in the Rec Pool, with a large free-form swimming pool and lap lanes. Visit Campus Recreation for additional info.
TRANSPORTATION:
Participants are responsible for their own transportation to and from the course, as well as during the course. On campus housing is a short bike or walk from the conference activities.
Additional transportation options and directions can be found here.
QUESTIONS

:
Questions regarding the course logistics may be directed to the Center for Continuing Professional Education. For information on scientific content, please contact David Maggs.
Tags