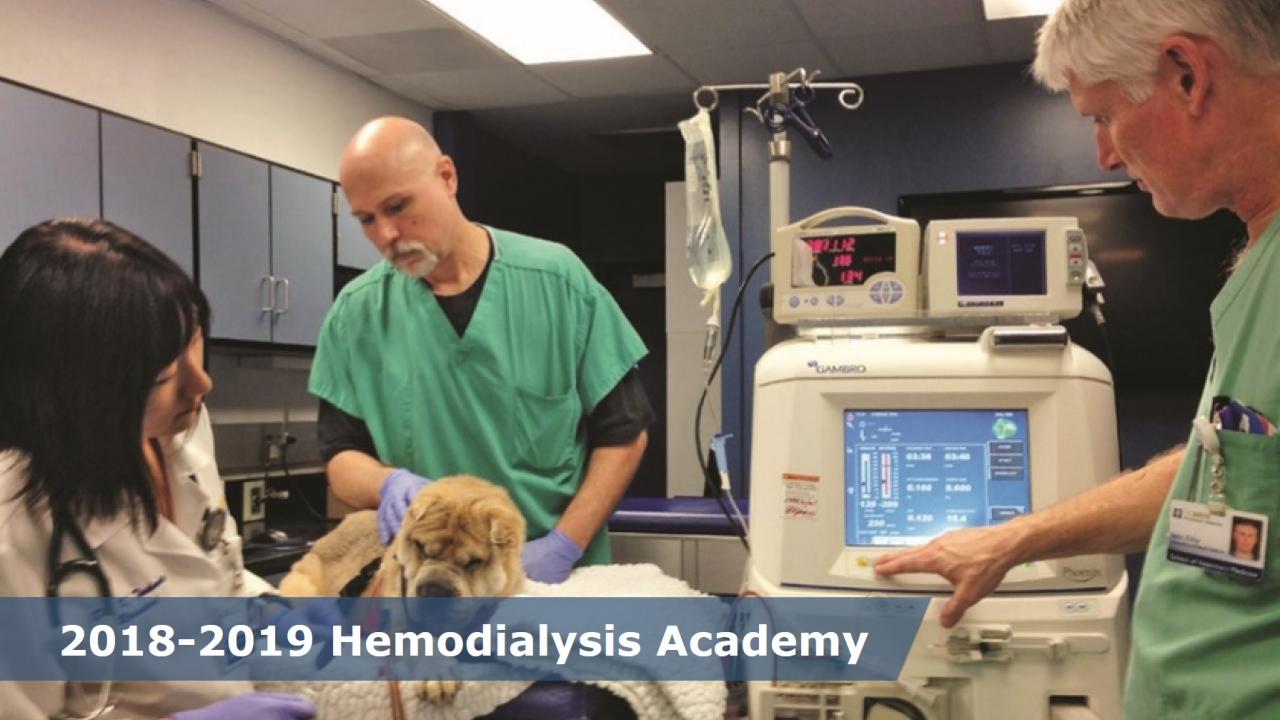 September 17, 2018 - 2019
Schedule: Monday & Wednesday lectures (14:00 - 15:00 Pacific Time); Friday discussions/rounds (mostly from 14:00 - 15:00; RRR from 08:00 - 09:00 Pacific Time) -- attendance during live sessions is not required but highly recommended for the two orientation sessions at the beginning.
Location: All sessions take place online
Credit: Certificate of Achievement
Cost: $3,000 for DVMs; $1,500 for Residents/Trainees. Residents/trainees must provide proof of training program via an email from their mentor confirming the registrant is a trainee and provide the title of the program.
Registration for this event is now closed.
Curriculum Worksheet — this is a working draft document with dates.
Sample lectures from 2016-2017 Hemodialysis Academy:
UC Davis School of Veterinary Medicine, in collaboration with the Ohio State University, the UC Veterinary Medical Center-San Diego, the Hebrew University of Jerusalem, University of Bern, Tufts University, and Friendship Hospital for Animals in Washington, DC now offers an Advanced Certification Program for Extracorporeal Therapies—the Hemodialysis Academy.
The Hemodialysis Academy:
is web-based with a combination of live, interactive, archived, and self-paced modules accessible worldwide
provides the principles, basic science, and clinical applications of intermittent hemodialysis, continuous renal replacement therapy, peritoneal dialysis. hemoperfusion, therapeutic apheresis, acute and chronic kidney failure, and operation of an extracorporeal program
provides over 150 hours of content as Monday & Wednesday lectures and Friday rounds/discussions sessions (all are archived for later review)
Teledialysis™ —virtual "on-the-floor" interactions during active, real-time extracorporeal procedures
provides Certification by UC Davis for Achievement in Hemodialysis—demonstrating aptitude and competency in the principles of extracorporeal therapies and their veterinary applications
Read what a recent course participant had to say about his experience with the Hemodialysis Academy:
"Excellent! The Academy taught me more than I expected about hemodialysis. I highly recommend it to everyone interested in dialysis and extracorporeal therapies." — Daniel Madriz
Instructors:
Tags